Nutrition for Ultimate Shape & Strength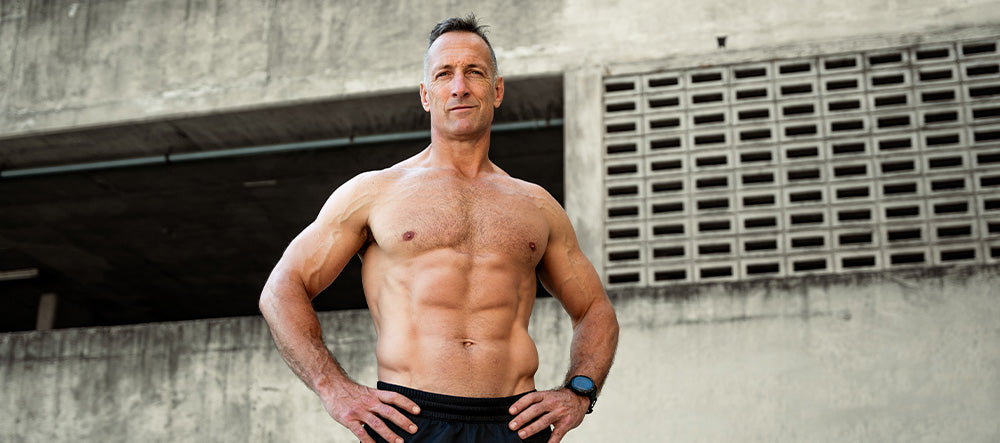 MuscleTech Results with Stefan Terblanche
For elite athletes and bodybuilders, the MuscleTech brand has for the past 25 years been synonymous with premium international sports nutrition and is regarded as a science-focused supplement following engineered formulas and industry-proven results for the highest quality performance nutrition and price that reflects its authority.
By staying true to its commitment to science-backed ingredients, Muscle Tech continues to define its strength with a rapid evolution as a daily health nutrition supplement for fitness fans, gym enthusiasts and dedicated health followers looking for ultimate shape and strength within their daily lives to help increase lean muscle mass and strength, reduce body fat and improve daily athletic performance.
That's why MuscleTech, South Africa's most respected sports nutrition brand, has partnered with Stefan Terblanche (48), a former Springbok rugby player regarded as one of the best finishers and most versatile backs in South African rugby history, to share his insights into his personal performance imperatives supported by the MuscleTech premium sports nutrition range.
Terblanche retired from rugby in 2012 to serve as chief executive to the SA Rugby Legends Association until 2020. Today he continues to boost his professional career as a South African fitness health and strength athlete and coach and turns to MuscleTech as his ultimate sports nutritional provider. Stefan is highly regarded for his friendly, humble personality and is respected for sharing his insights and opinions on his personal experiences as he engages with his health fitness community. We asked Stefan about his strength and fitness training plan and advice on sports nutrition:
FOOD & EXERCISE
What do you eat before a workout? I don't have a set meal or eating routine before training or even when I take part in professional sporting events such as mountain biking, rowing or running.
When I played professional rugby, I had a very strict routine, but mostly on game day, making sure I got all the nutrients in to get me through 80 minutes of rugby but also to cut out any variables. With sport and training it's no different, we want to give ourselves the best possible chance of performing at our best every time we train and compete across exercise selection, intensity, repetition, sets and rest periods.
I have tried all sorts of eating, fasting and even a few diets like keto. For me, it's about balance and finding that sweet spot. In the mornings, I usually train on an empty stomach, drinking two cups of coffee in the build-up to training. In the afternoons, I will eat before, even during and after training. There is so much debate and opinions on what to eat before a workout; do what works for you!
NUTRITION FOR MUSCLE-BUILDING
How can one increase lean muscle mass? From a nutritional and exercise perspective, the biggest mistake people make is not to eat! They train hard and take all the nutrients and fluids out of their body which they don't replace after a session. Then they can't believe how they are not developing the body they have always wanted. This is the biggest mistake one can make. If you can't eat or don't have an appetite after training, it is crucial to try and at least have some form of replacement drink. The MuscleTech Nitro-Tech Performance Whey Protein (998g - R999 or 1,8kg – R1 899) is my go-to drink to meet my daily protein needs and to support my muscle-building and recovery process. I make it part of my daily lifestyle to enjoy a clean protein serving for both hydration and post-workout recovery.
MuscleTech's Nitro-Tech Whey Performance Protein contains 30 grams of protein, primarily from whey protein isolate, ultra-filtered whey protein concentrate and hydrolyzed whey protein isolate, with only 2 grams of carbs and 1.5 grams of fat! It is also enhanced with a research-proven dose of 3g of creatine monohydrate which combined with whey protein will help to build more strength than regular whey protein. In one study, subjects using this whey/creatine combination, increased their one-rep max bench press by 15kg, compared to only 6.4kg for subjects using regular whey protein.
I believe that you can eat your fat away, meaning that if you train hard (and training hard means different things to different people), and have a serious amount of good food as sustenance, your body will reward you with lean muscle mass. This gets harder as we get older, but there is absolutely NO reason for you not to build muscle as you age. MuscleTech Test HD Elite (120 caps – R949) is ideal to give you a boost when you need it and is formulated with a never-before-seen combination of scientifically validated ingredients – by far the strongest testosterone booster available on the market. It has been designed to increase natural testosterone production to support your muscle-building process and needs no cycling.
MuscleTech Test HD Elite supports muscle-building activity, by reducing cortisol – a catabolic hormone that can limit size and strength. It features a precise dose of boron, scientifically shown to increase free testosterone levels and decrease estradiol levels after just seven days. The test-boosting compound, PrimaVie® Shilajit, has been shown to increase total serum testosterone levels after 90 days. EnoSTIM® supports nitric oxide for increased blood flow while KSM-66™ Ashwagandha offers a powerful adaptogen shown to support strength and muscle size.
ENHANCED PERFORMANCE
Why is sports nutrition important? Everyone who engages in physical exercise, whether for health, fitness or performance reasons should support themselves with a nutritional supplement. It helps provide the right amount of energy, nutrients and fluids to support the body's functions, helping us to enhance our performance, prevent injury and promote recovery.
Saying that it is important to educate oneself and verify a supplement's nutritional efficacy, that's why it is so important to go where the research provides science-backed and peer-reviewed results. Too many people still believe the myth that Creatine will make you retain water, lose hair, and have kidney and renal failure, along with many other so-called side effects. Research has shown that none of these are true and that creatine is one of the best supplements one can use. I use creatine, and I really enjoy the MuscleTech Cell-Tech Elite (591g - R1 299) in a cherry burst flavour; I take it before and during my training sessions, and my recovery's been great. It is a legend in its ability to pack on muscle mass, size and strength. The Original Cell-Tech Creatine (R1.36kg – R899 or R2,27kg – R1 349) formula has set a new benchmark now with Cell-Tech® Elite as a next-generation formula with even more essential muscle builders, fewer carbs and critical electrolytes.
MuscleTech Cell Tech Elite contains ingredients hand-picked by MuscleTech® researchers to amplify your muscle growth potential while boosting strength and speeding up recovery time between sets. It features a fully disclosed, clinical dose of top-grade 5g creatine matrix (with added 400mg PEAK ATP®), 4g BCAAs, 6g EAAS and researched-backed cortisol-controlled ingredient Sensoril® Ashwagandha to amplify strength and improve recovery. It's simply the most powerful muscle-building formula ever developed! In a 12-week clinical study, subjects using PEAK ATP® gained 3.9kg of muscle vs. 2kg with the placebo group. That's 90% more muscle.
Recovery, in general, is the most underestimated component of a fitness routine where in fact it should be prioritized as an essential part of any form of exercise. MuscleTech Clear Muscle 84 softgels (R1 349) is a revolutionary supplementation option to accelerate recovery which helps your body to amplify protein absorption while simultaneously fighting muscle breakdown, putting the body into the perfect state to build muscle. There is no other supplement like this in a clear liquid pill. Less muscle-breakdown and faster recovery means that you can return to your exercise routine faster.
MuscleTech Clear Muscle accelerates recovery and in turn enhances strength and helps build more muscle through less muscle breakdown. It features MuscleTech® exclusive, BetaTOR®, a unique metabolite and free-acid HMB derivative of leucine, the most powerful amino acid, that amplifies protein synthesis while fighting muscle breakdown. Subjects who combined BetaTOR® with exercise gained 7.3kg of lean muscle, while the placebo group gained only 2kg — 3.5 times the muscle growth!
Stefan Terblanche has maintained epic levels of fitness after retiring from rugby. He regularly continues to participate in various endurance events, such as cycling, running, swimming and triathlons. He has completed the Cape Epic, the Ironman 70.3 and the Godzone Adventure Race among others and loves to travel and spend quality time with his family.
ABOUT:
MuscleTech® supplements are made with the highest quality ingredients in the world and the brand is dedicated to continuously researching, developing, patenting, producing, and globally marketing the safest, most effective diet and sports supplements to assist people in achieving their personal fitness and nutritional goals. In addition to some of the most advanced muscle and strength builders on the market, the MuscleTech brand also includes cutting-edge multi-vitamins and recovery products.
Follow us @muscletech_za on Instagram and MuscleTech South Africa on Facebook for product information, news and updates, diet and training tips, special promotions and more.
MuscleTech products are available to purchase in South Africa at Takealot, Dis-Chem Pharmacies, and other local and online wellness stores. Shop direct from the official local distributer, DS International Distribution, at www.dsinternational.co.za.
For more information on MuscleTech® products, visit the global website at www.muscletech.com.